Mortar Selection - TEC 3N1 30LB MORTAR WHITE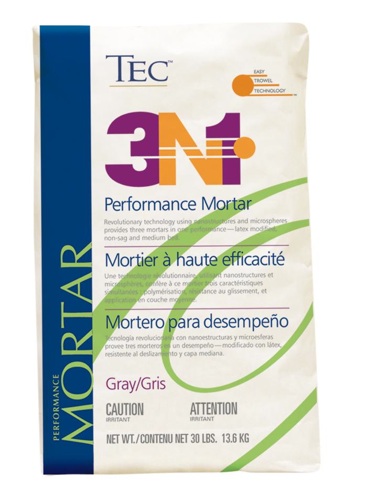 TEC 3N1 30LB MORTAR WHITE
A lightweight premium mortar
that combines polymer modified,
medium bed and non-sag features
into one high-performance
mortar. For use over plywood,
cementitious surfaces and other
substrates. Use White with
Natural Stone.

Best for heavy and large format
tile.
Non-slip for large tile and
stone wall applications.
Non-slump for heavy tile and
stone floor applications.
Extended open time for maximum
adjustability.
Formulated with Easy Trowel
Technology for superior
handling.
Exceeds ANSI A118.4, A118.11 and
A118.15 specifications
Provides 50 lb. coverage in a 30
lb. bag.
Mold and mildew resistant.
Contains 6% pre-consumer
recycled content and zero VOC.
Available in 30 lb. bags.
SKU: TEA3N130WH